Neck Pain Information
Neck pain can significantly reduce a person's quality of life, particularly if they are unable to receive relief. Occurring at any point between your shoulder and head, neck pain symptoms vary by person and can range from mild to severe. In extreme cases, neck pain can limit movement and result in disability.
Causes of Neck Pain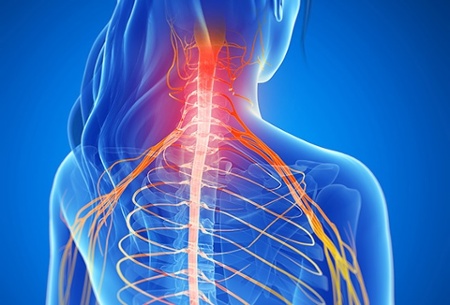 A number of issues can cause neck pain including aging, poor posture, arthritis, or poor sleeping positions. Additionally, injuries to the neck, nerve issues, and illness can result in chronic neck pain. The majority of the time neck pain is temporary and is not a cause for alarm. However, when pain continues for more than two months or you find yourself unable to get relief, you should seek the services of a pain management professional.
Treating Neck Pain
Treatment for neck pain begins with diagnosing the cause of the neck pain. The purpose here is twofold. First, pain cannot be adequately treated until the root cause is identified. Second, because neck pain is a symptom for a number of medical conditions, it is important to rule out another issue. Pain management experts have a number of tools and treatment options to help relieve neck pain.
Treatment options include:
Epidural injections
Joint injections
Nerve blocks
Injections at trigger points
Massage therapy
Evaluation for surgical repair
Physical therapy
Acupuncture
Pain medicine
Neurostimulation therapy
Each patient receives a treatment plan that is designed to address their specific needs. The team at NY Neurology Associates works together to ensure that every aspect of a person's treatment is considered in order to fully manage their neck pain. Offering a number of treatment options ensures that every patient has options to help relieve their pain.
For information about neck pain management, contact the experts at NY Neurology Associates today.